What, as a traveler, would you like to know about Thasos Island, planning to visit Greece for the first time in this heavenly place?
To begin with, you will be interested in general information, such as the location of Thassos on the map, the weather and hotels. And only later, as you learn the basics of the island, we advise you to take care of details that give meaning and interest to the whole trip.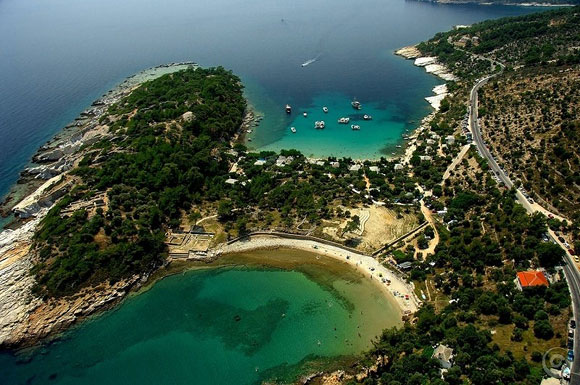 Thasos Island on the map
First, you are probably interested in the location of the island relative to others, as well as the villages on the island itself, its roads and so on. The Thassos map will help you in this. It will give you general information, statistics on the area, etc. Briefly, Thassos is one of the northernmost islands of Greece, or more precisely, it is located in the northeast of Greece. The area of ??Thassos is quite small, allowing to round it all in a few hours. Thasos has a circle shape and an automobile road along the sea makes the trip around the island very pleasant. More details on how to get to Thassos in Greece, and general information you will learn from our specific articles on the topic.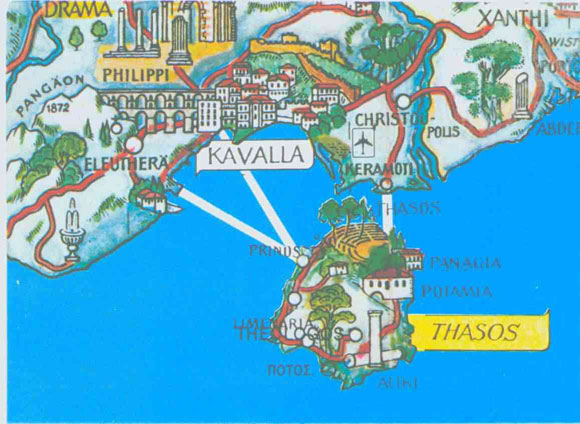 Weather in Thassos
Secondly, you, like any normal traveler, probably worried about the climate and the weather, or rather the temperature of air and water in the month in which you plan to come to Thassos. At our site you will find information on degrees, but in any case, you should know that on Thassos the summer comes later and lasts shorter than on other popular islands in Greece (for example, Rhodes, Crete). If in southern Greece in early October you can still enjoy more or less comfortable weather, then at Thassos you are more likely to run into a storm and rain. Even at the beginning of June, not everyone can swim in Thassos at sea, as the sea is just starting to warm up.
Hotels in Thassos and other accommodation
Various options for accommodation are available in terms of comfort and financial costs. You can live on Thassos in different conditions, starting from a camping tent (or even a savage) and ending with a two-story cottage for rent with your own territory. Standard accommodation in the form of hotels on Thassos is also quite rich in assortment - this is also the hotels-studios, and the apartments, and townhouses, and five-stars.
Thassos Attractions
Not so famous, but interesting and sufficient to get acquainted with the history of the island, Greece and getting impressions. There is an amphitheater, an acropolis, sanctuaries of Athena, Hercules, Dionysus, an ancient agora, a marble beach, etc. Read our article about the island's attractions and find out more about the one that interested you.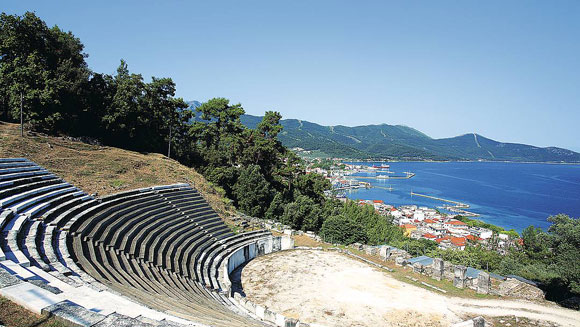 Interesting information about the island of Thassos
Having satisfied the basic needs in the form of knowledge of housing, weather and photos on the Google map, you can move on and find out what the particular Greek island can offer you.
If you are a gourmet - find out where to eat real, in Greek, and not eat a tourist Greek salad in the first tavern at the hotel. If a connoisseur of wine - where to drink real home wine, and not "home wine" in the menu of a tavern with a glyco-spill for 1.5 euros and a half a liter from a supermarket. If you want to purchase real Greek souvenirs, rather than Chinese amphorae, you also need to know how to distinguish them, where to buy them and what exactly. Such unique information can be given by those who were on this island more than once and you will also find it here if you leaf through the pages of this site about the emerald island of Thassos.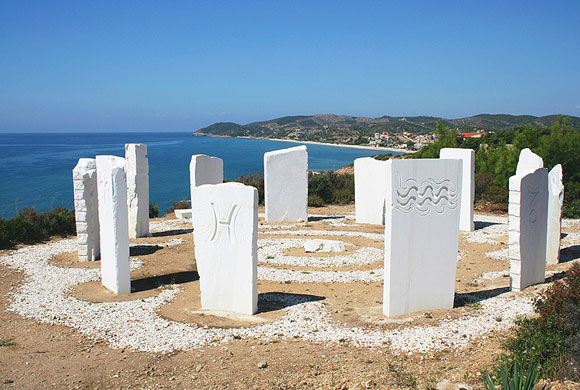 Difference between Thassos and other Greek islands
A lot of greenery and pines. Many of the islands of Greece are too arid (the same Crete and Rhodes) and poor in forests, Thassos, like Corfu, in this are different from them.
The Thasos Aegean Sea, which is considered cleaner than the Mediterranean and Ionian, which also bathe the other islands of Greece. Due to the bottom relief near the shores of Thassos, the sea has a special color gradient.
Thasos Island is small, you can even say a little, compared to other popular islands of Greece. Because of this, it is not so developed in entertainment, entertainment and shopping. The smallest number of listed can be found, and it is enough for travelers who for the most part came to admire nature and pacification, and not by searching for acquaintances and European impressions.
Most of all on Thassos tourists from Eastern Europe. Russian tourists are added year after year, Muzenidis Travel is particularly active in bringing them here. However, there are not so many independent travelers, and compared to other islands of Greece, the share of Russians on Thassos is not great. This is because of the transfer, because to get to the island longer, as we say, in Chalkidiki, infested by Russians.
For gourmets and connoisseurs of seafood on a small Thassos expanse, since most of the taverns are located at the sea shore and has its own suppliers-fishermen. Unlike other large islands, where more than half of the dishes in the menu are prepared from frozen fish and fresh ones have to be looked for, on Thassos fresh fish is, as they say, "by itself," and not an exception to the rules.
Summarizing, let's say that Thassos is an interesting example of that island Greece, which is still trying to preserve its original appearance and give travelers pleasure primarily from the sea and the beauty of nature.