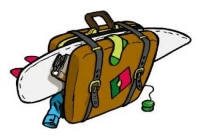 Your stay on the sunny island of Rhodes comes to an end and it's time to choose souvenirs for relatives and colleagues, and do not forget about yourself. What we carry from Rhodes in memory of him?
Souvenirs and items with the image of the Colossus of Rhodes
Numerous souvenirs can be brought from the island of Rhodes, but especially worth paying attention to things with the colossus of Rhodes. It is the image of the Colossus of Rhodes, one of the wonders of the world, which is the distinctive symbol for the entire sunny island. Figurines, T-shirts, mugs, magnets - all this is quite trivial, but still will make a nice nice gift to friends, colleagues and yourself.
Olive oil
You can bring local olive oil from Rhodes pressing, visiting the dairy. Certainly, almost all the oil in Greece is of excellent quality, but if you are already in Rhodes, it will be more reasonable to buy a locally produced product.
The wine of Rhodes
The brand CAIR produces Rhodes alcohol, white wine, sweet and dessert. For lovers of savoring wine from a sunny island in the cold Russian evenings, such a gift will be one of the best.
Where to search for original souvenirs in Rhodes in Greece
Souvenirs from local attractions
Interesting and not trivial things you can buy by visiting stores at museums. Probably it will not be an exclusive, but at least something original can be found.
Also, do not ignore the antiques shops. Sometimes among the dusty shop windows you can literally dig out something ancient and unique. Unfortunately, such shops in popular resorts can rarely be found - often come across the same type of shops and goods. But as soon as you see something unique, even if not in a brilliant window showcase, do not be lazy to go.
In jewelry shops and shops. It is not necessary to emphasize the acquisition and your wallet on expensive gold and silver, it is enough to visit a good bench of the so-called Hand Maid. Ornaments made by hands and with the imagination of some talented Greek can become the most memorable thing among all your souvenirs from Greece. Again, this is not about tents in the center of the resort town, but about less touristy trails. Nevertheless, in each of our visits we found such places (although they were not targeted purposefully).
Do not forget to buy and what is transported from Greece, from any island and continent: honey, jam, sweets, ceramic plates, sea sponges for the shower, woolen sneakers with pompoms - all this with joy is loaded into backpacks and suitcases of Russian travelers. The main thing is that the limit of transportation in the plane is met.
Tags: What to bring from Greece
Useful information about Thassos: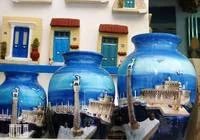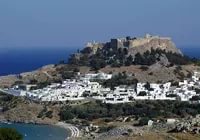 What sea on Thassos?