The metal is a beach in the village of Limenaria.
How to get to Metalia?
This beach is located on the left hand side of the Limenarii quay (if you face the sea). To get to it from Limenaria, you should go to the end stop at the left end of the beach line and climb the stairs to the old metallurgical plant. This plant - a business card of Limenaria, not seen for you, it will not remain: it is on a raised platform and is highlighted in the dark.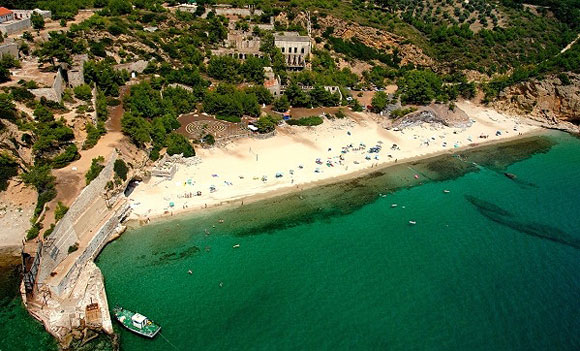 Having risen upward, you can observe the panorama of the sea, the sky and the coves from the edge of the cliff. Continuing the path and going down, you will find yourself on the beach of Metalia, which is named, probably, in honor of the metallurgical plant.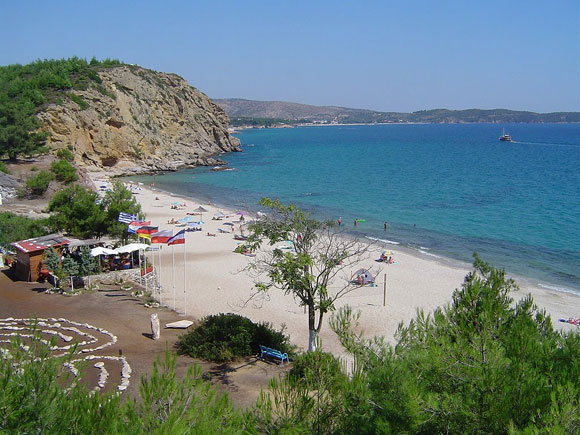 Shore and water
The beach of Metallia is a wide sandy belt, bounded on both sides by a cape. Despite the velvety deep sand of the beach itself, the bottom is mostly stony and quite slippery, especially on stone slabs near the shore. From the edge of the beach, which is closer to Limenaria, the bottom is sandy. Most of the tourists go there. From the same region there is a cliff in the rock, which can be overcome by bending into three ruins and finding yourself in a secluded bay.
The bay next to the Metalia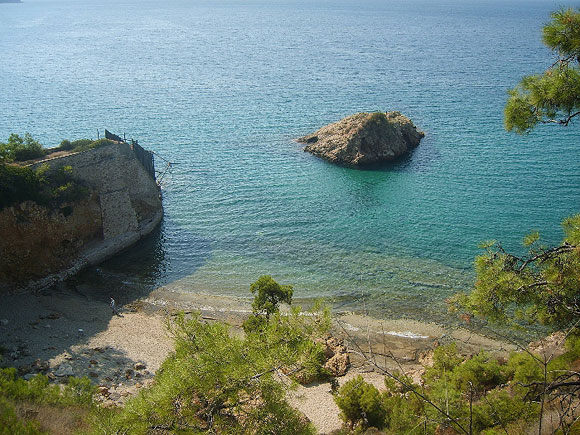 On the beach, Metalia has sun loungers and a bar. There are stone structures designed to attract the attention of tourists.

The metal is the popular beach of Limenaria, but people are not there like herrings in a barrel. To get to the beach of Metalia, you need to make efforts, so most of the tourists prefer to sunbathe and swim near your hotel - on the main beach of Limenarii along the entire beach line of Limenaria, the length several kilometers. It is also possible to reach the metaal by car, the parking lot is located right by the beach.

Thassos / Beach Metalia


Clarifying queries:




Arrange yourself a small shopping