Tripiti - a sandy beach, located a couple of kilometers from the center of the village of Limenaria. To get to it from Limenaria, you need to move towards the Rocks of Marion.
Features of Tripithi Beach on Thassos
Tripit visits both tourists who stayed in Limenaria, and specially coming to Tripiti with a view to relax in a wonderful place. Directly on the beach of Tripiti there is a hotel, there are also hotels in the nearest district and if you live in them, Tripipiti beach will be your main pastime.
Near the beach there is a landmark - a through bay (or mini-cave), which travelers like to visit on boats. Most of the photoshoots of tourists visiting this place also take place there.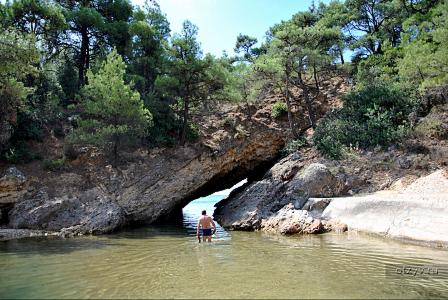 The beach itself has sand, deep and pleasant. However, this sand lasts exactly up to the place where the sun loungers are located. That is, if you do not want to buy drinks in the bar and pay for a chaise longue, you will have to settle for a place under the sun, located on the pebble beach. It seems that the sand is specially organized by the hotel for its guests. There are many people on Tripiti, the beach is popular.

If you are bored with Tripitism, you can go to Limenarii - there is a main beach Limenarii beach along the entire coast (pebble beach) and the beach of Metalia (the beach is sandy). But for this in the siesta still need a car.

Thassos / Beach Tripiti


Clarifying queries:




Arrange yourself a small shopping