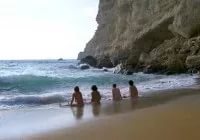 Beaches for nudists
If you are a fan of sunbathing in what your mother gave birth, on Thassos you can find yourself a quiet secluded place. The beach for nudists on a small island is primarily hard to reach bays. To get there, you need to try hard - for example, make a comfortable descent from the mountain or even go on a yacht from the sea.
In hard-to-reach bays and lagoons, it is possible for nudists to sunbathe, without intimidating family having a rest with children as they prefer the arranged well public beaches. These bays can not even be found far from Limenas, the port of Thassos, if you move towards Mcriamos. But while lovers of naked rest should not be too demanding to the shore, such secluded places rarely have a deep sand and can not boast of the absence of sea urchins. It is understandable - then there would be a beach for everyone here.
Also, nudists like to be settled not by the beach called Paradise (paradise) - they find places among rocks.
There are no official Tasos nudist beaches, as on other islands like Lesbos or Corfu. But we think we will save you time by naming at least one.
Where is the beach for nudists on the island
This beach is not far from Limenaria, about two kilometers from its center, if you go to the side of Tripithi beach (see map in the section "Thassos maps"). You can get there on foot, strolling along the shore of the city beach of Limenarii towards the mentioned tripity. You can get there by car, park the car upstairs on the track somewhere on the patch and go down the stairs from the other side of the beach. It is worth noting that the beach here is even better than the city beach of Limenaria - here is sand, not pebbles. Here, bare citizens vacationers most often set themselves a temporary shelter of a couple of sticks and towels, and sunbathe there. Well, or we just came across shy or novice nudists.
This private nudist corner can also be visited if you consider yourself to be a "children of nature" who despise clothes when taking sun baths.
Tags: Limenaria, Beach Tripiti, Beaches
Useful information about Thassos: