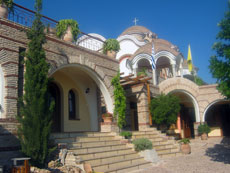 Near the town of Aliki, the main religious landmark of the island is the functioning monastery of Archangel Michael.
The appearance of him at this place is connected with the legends of healing, prophetic dreams, inexplicable miracles that happened here. The sign was that on this rock a monastery was built, which is still in force today.
This place attracts both believing people and ordinary tourists. For the first, there is a chance to touch the shrine - the nail part, on which Christ was crucified, for the second - to visit the most beautiful place with a magnificent panoramic view, one of the best on the island.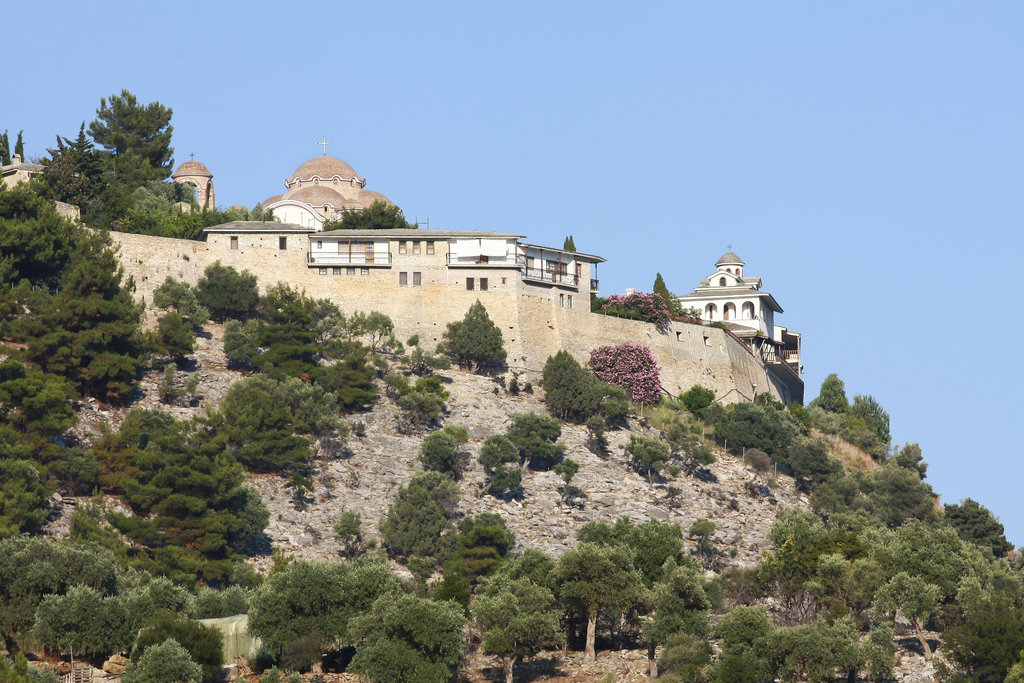 Inside the Monastery
The entrance to the territory is free. At the entrance, handkerchiefs and skirts are issued, if you are not properly dressed according to church standards (shorts, T-shirts). Not all the territory is open to visitors, the nuns' residence is hidden behind the high gate.
You also have a chance to stroll along the patio, from which you can enjoy a splendid view of the sea. The monastery is at the top of a cliff, so the view is really breathtaking, which way you would not look.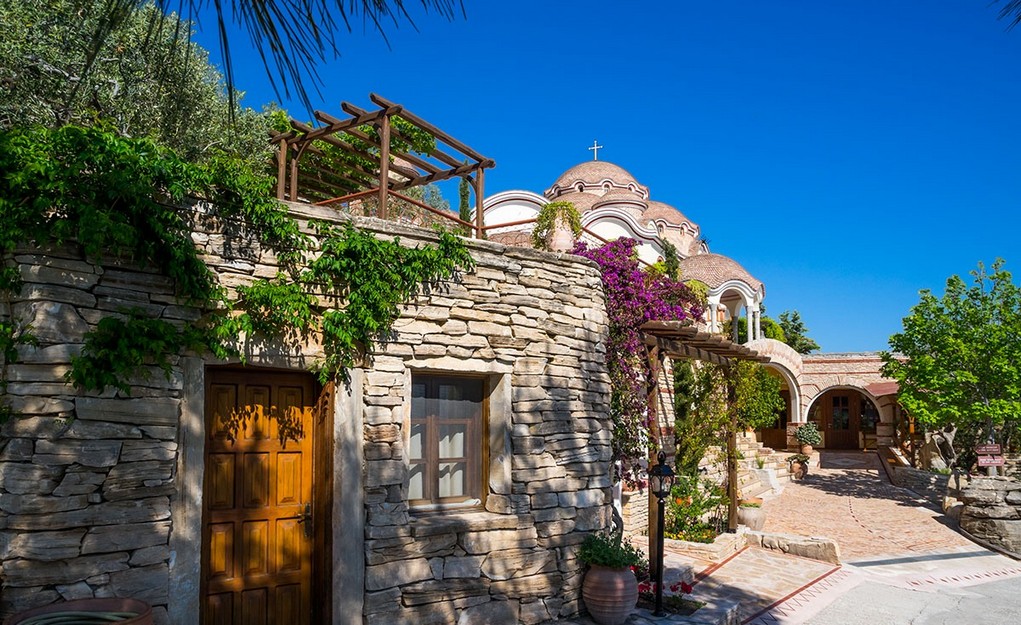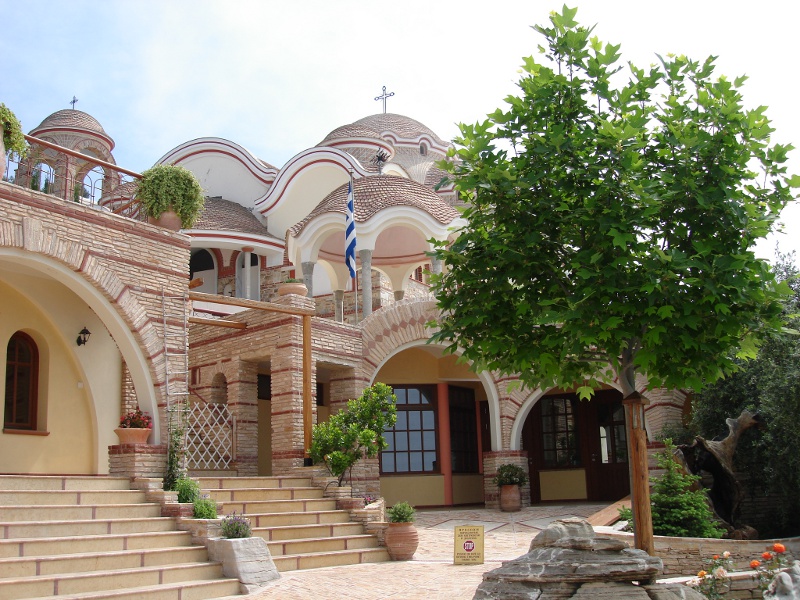 What can I see in the monastery of Archangel Michael

In the territory open to visitors, you can visit
1) a souvenir shop selling souvenirs with church themes, as well as things made by the hands of female novices. For example, knitted baby booties.
2) inspect the arms store-exhibition. Through the window you can see the exhibits in the form of knives, sabers.
3) Of course, on the territory of the monastery for tourists, a church is open, where you can pray, put a brown candle, which you can buy right there (the price tag is offered from 1 euro and above, depending on the thickness of the candle).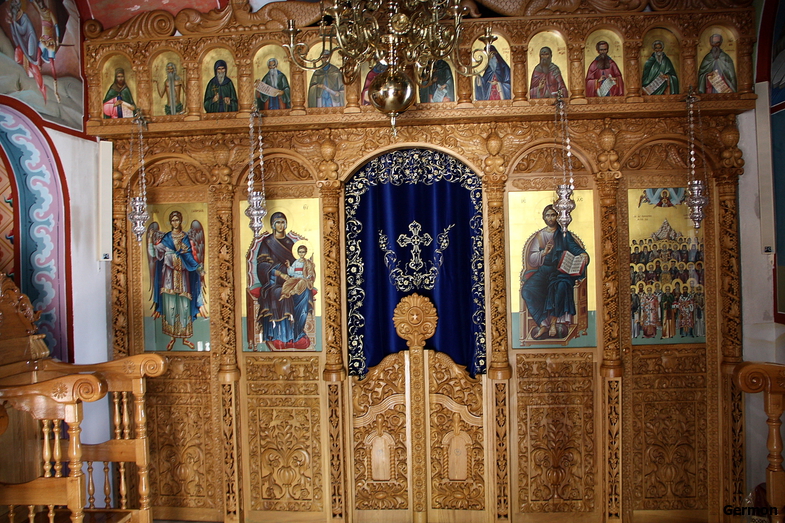 At the exit from the monastery, you can rinse your face with holy water from an organized source or take it with you to the bottle.
The cave under the monastery

Below the monastery there is a descent into a small cave, to reach which is very difficult. I wonder what percentage of tourists decide to go there? The road is somewhat dangerous even for people who are dexterous, so do not risk if you do not have health insurance. In the cave there is an icon of Archangel Michael, a candle and a splashing healing spring. It is believed that the one who washed it, gets rid of various diseases that torment a person. Actually, for this, people decide on this excursion to the cave.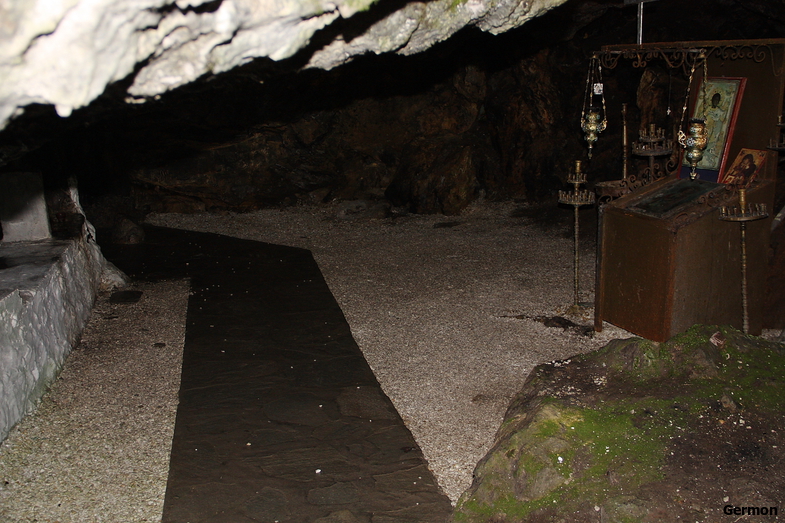 Visiting this monastery is an obligatory excursion for those interested in the island of tourists. You can combine his visit with exploring the surroundings of Aliki's beach.
Tags: Aliki, Excursions
Useful information about Thassos:

Interesting places, worthy of attention of tourists

In July, the weather on Thassos is finally established and the island is ready for the influx of the bulk of tourists.

Lagoon with turquoise water