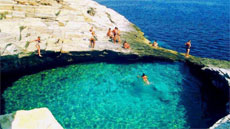 The island's attraction is the Giola lagoon with turquoise water. Giola is interesting primarily because it has a natural origin: the lagoon is formed in the rocks by washing out in a rock with a storm and sometimes troubled waters of the Aegean Sea such a deepening.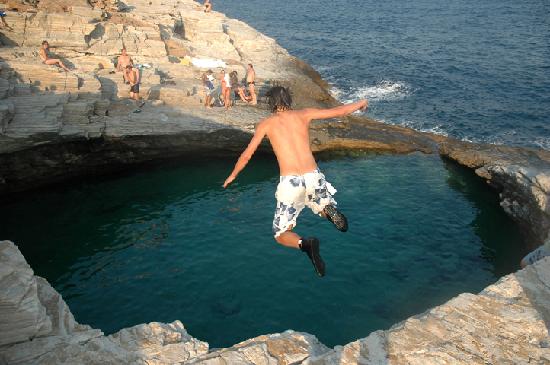 How to get to the Giola Lagoon

The landmark for getting to Giola is the village of Astris. Directly from the highway you will see a sign and an arrow-direction on the stone, indicating where to go. To get directly to the lagoon, rent a car or take advantage of the excursion "Exotic beaches of the island" from Muzenidis Travel.
While staying at Giola, some restless bathers organize competitions - who will have the heart to throw a rock from the rock into the water of the lagoon. Some at the same time beat off something to themselves, since the depth is not great - no more than 3 meters. Here you can stay with the children, but you should keep an eye on them.
The water in the lagoon is updated in the most natural way - during high sea waves, it makes its way through the stone barrier and is safe in the lagoon.
Giola is a natural attraction of the island of Thasos, which deserves your attention along with other unusual places - Ipsario, Marmara beach, forest lake and others.
Tags: Excursions, Sights, Beaches
Useful information about Thassos:

Arrange yourself a small shopping

What is the weather waiting for tourists in the first month of autumn?

What sea on Thassos?