Despite the fact that even by Greek standards Thasos is not big, hotels and accommodation are presented here for any purse and taste. On average, the price per night in the hotel starts from 30 euros in high season (the season is from July to early September), but this is the most budget-friendly version of the economy class.
Hotel map on the island
Depending on the part of the island in which you want to stay and from the beach that you want to see closer to the hotel, choose accommodation according to the scheme below.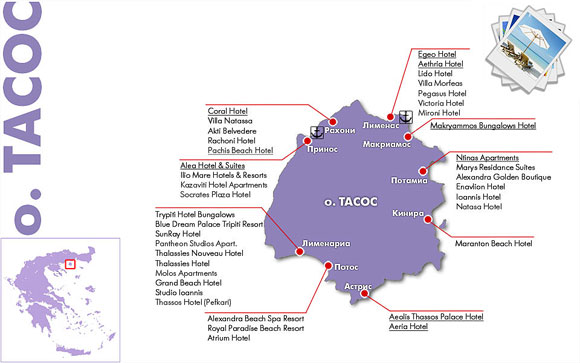 Hotel options and prices
To understand what housing conditions you can count on an island, you should know what it offers in this regard. This island, despite the developing tourist direction in its direction, keeps reasonable prices and offers for accommodation both in studios and in hotels. The design of hotels varied, most often on the external facade you can figure out which price segment of the hotel and its services.
Photos of the hotel in Limenas (Thassos port) Abbacy Katiana's Castelleti 1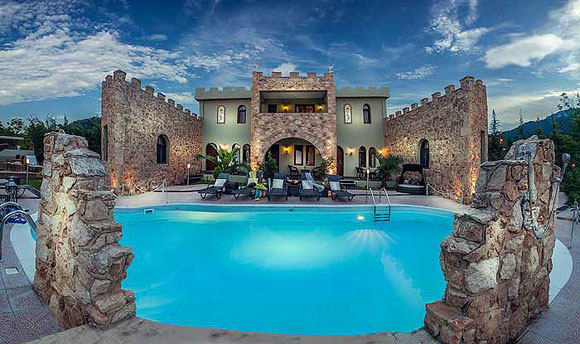 Island hotels - star rating
More often than not, tourists like to choose from the stars when choosing a hotel. Most hotels and apartments have 2-3 stars, and this is quite enough for a low-cost holiday at sea. After all, you came to look at the sea, not the TV in the hotel, right?
If not, and you want to have better conditions, at your disposal are a few four-starred and even rarer five-star hotels .
Photos of the five-star hotel on Thassos Alexandra Beach Thassos Spa Resort 4 *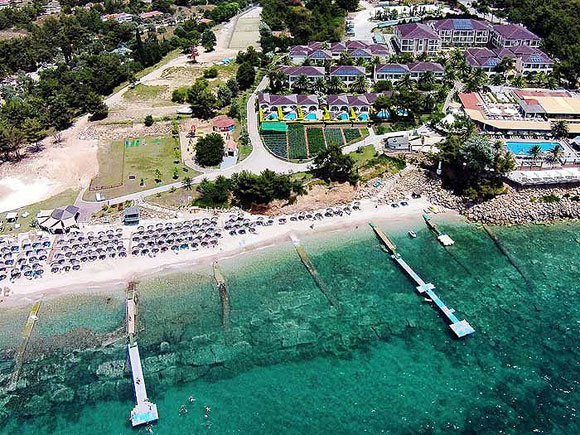 In these hotels you can already enjoy the delights of Spa treatments, visit the fitness center, where you can burn calories of hearty Greek meals, animators are available. In some hotels you can play mini golf and even ride horses.
Hotels in the studio format
The most budgetary housing - studio. This is when one room can fit from one to four beds, plus a kitchenette and an anteroom. This is a great place to spend the night and again rush on the excursion and conquest of the island. The price for a studio in a season is from 30 euros per day.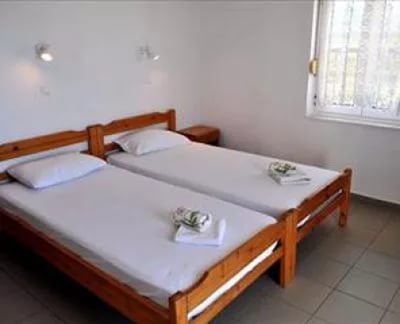 Bungalow type hotels
Greek bungalows are really bungalows - houses with one or two bedrooms and a veranda, and it sometimes happens that the owners call the bungalow an apartment with a separate entrance in a row of the same apartments. The price of a detached bungalow in the hotel complex during the season is 60-75 euros per day.
Hotels - Apartments
Most apartments are presented with one bedroom. That is, a living room, a bedroom and a kitchen (or a kitchen combined with a living room). Two-bedroom apartments are smaller. The cost of apartments in the season - from 50 euros per day.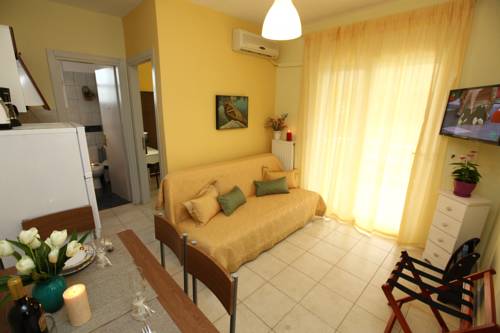 Villas and cottages
Villas and cottages cost from 150 euros per day, which depends on their location and condition.
Thus, if you are unpretentious, you will easily find accommodation on an emerald island. If you have special requests for amenities and services in hotels, then there are fewer such offers, but there are enough of them to find what you need.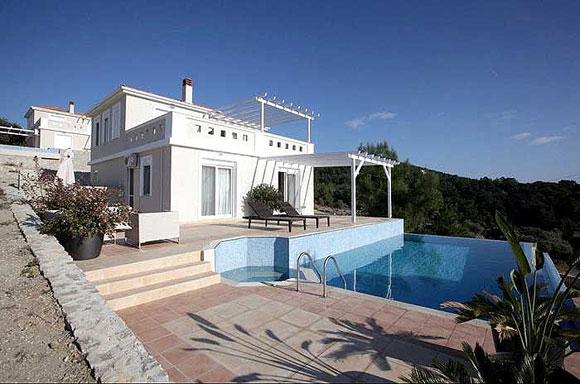 How to choose a hotel
Search for available hotels in the region by using the best online hotel booking websites. You can find the hotel on your arrival on the island (in a season you will spend a lot of time and nerves, but you can save money).

Thassos / Hotels in Thassos


Clarifying queries: