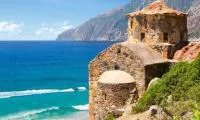 The comparison between Thassos and Crete boils down to the fact that these are completely different in nature of the island. If such a comparison is appropriate, then Thassos is a village, and Crete is a cosmopolitan among the Greek islands.
The word village is in no way offensive, but rather, vice versa.
What is the difference between the Cretan and Thassian rest
This applies not only to the size and area of ??the territory, but also the type of rest. Thasos does not have much leisure, both for children and adults. He is, but in comparison with Crete they are not so diverse and not in such quantity. Thasos is a calm and peaceful holiday, the main entertainment here is nature. Crete, the largest Greek island, offers more fuss and life, more excursions, attractions. The rhythm of life here slows down only in secluded corners, where you have to get to the car for a long time.

It is likely that one trip to explore Crete you will not succeed, because to inspect it you need to drive all the time and find time to move around back and forth. And all the Thassos around the perimeter you will eat in a few hours and this has its advantages - you will find better beaches and taverns for the desired past more quickly. But there are also disadvantages - for restless travelers, rest can seem monotonous for a long vacation.
Which island to choose for yourself and your baby
If you prefer beach rest with nerve restoration and energy recovery, it's better to go to Thassos. Do not think that Thassos is a retirement island, it is rather for introvert and for those who value personal space. If you are a fan of crawling through the famous ruins, approve of hangouts and crowded beaches, do not imagine life without normal supermarkets and shopping, even on vacation - welcome to the Cretan resorts. Children of adolescence will be more interesting, perhaps, also in Crete.
The difference in prices
As for the difference in prices for food, meals in taverns, on cars - it's almost none. In peak season, there is a shortage for renting small (and, therefore, economical) cars everywhere, regardless of whether it's a small island or a big one. The average check in the tavern without frills is an average of 25 euros per family - that in Crete, on Thassos, which is in Corfu.
In general, the search for differences between these islands will be handled by the one to whom by virtue of what It's more convenient to go to Thassos or Crete. Much more appropriate to deal with the comparison of Crete with Halkidiki, say. And Thassos is with Corfu (they have more in common than Crete with Thassos).
Useful information about Thassos: