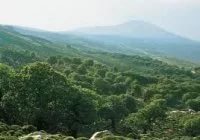 Continuing to compare the Greek places for recreation, consider not so popular with Russian tourists Euboea (or Evia) and Thassos.
Than similar and different
These two islands are united, that they are as close as possible to the mainland of Greece.
Proximity to the mainland
Euboea is a neighbor of Athena, Thassos - Kavala, and it is from the nearest continent that the Greeks stretch to the islands - on weekends or summers (as in Russia we have moved to a dacha for a summer period). On Euboea many Greek-Athenian houses, houses are rented to visitors at a very reasonable price for seasonal Greece. At Thassos, rented private accommodation is difficult to find and prices are more expensive.
Little organized entertainment for tourists
The similarity of the comparatively small islands is the minimum of entertainment and entertainment for tourists (like a water park, museums). They are present, but not in such quantities as in developed tourist destinations such as Crete or Corfu. I mean, be ready to entertain yourself, and best of all come here for contemplation, exploring nature and places - this is the best destination for both Euboea and Thassos.
Different climate
Since Euboea and Thassos in different parts of the country, respectively, and the weather is different. Of course, in the period of June-August these two islands will please you with the expected good temperature (except that in Euboea it will be more hot), but in spring or autumn months the difference is felt. Thasos, still north, rains and some cooling comes here earlier. In any case, always higher degrees on Euboea.
Island and islet
Euboea is one of the largest in the area of ??the Greek islands, Thassos is one of the smallest. For long trips it is more interesting and diverse pastime on a larger territory. But the advantage of small islands is that by resting on them, you can easily get to the village, local attractions, the store in the end. And on Euboea (especially in its southern part) there are vast territories where it is quite deserted and there is not enough civilization, and it may take a couple of hours to reach people. In the same couple of hours, you will eat all the Thassos around the perimeter.
What is closer to the world-famous landmarks
Being in Euboea you can more easily reach world-famous monuments of architecture, ruins and other popular places. Since the focus of the ancient Greek monuments of history is on the Peloponnese Peninsula or near, then with Euboea the path there will be faster. From Thassos, to take a look at the same Acropolis of Athens, the Olympic Stadium, Mycenae, Meteora, you will need an airplane flight or a day trip by car. From Thasos you can get to other, not so famous sights, but not less interesting.
We hope that our small comparison will help you to choose the place of your holiday.
Useful information about Thassos: