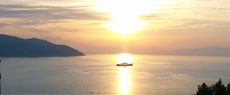 Which is better - Thassos or Corfu?
This question is asked by many travelers, choosing between these two greenest islands of Greece.
In fact, they have only one common thing - definition "green Island". Everything else is different.
Thassos Advantages
If you eat for peace, contemplation and relaxation from people, then at Thassos rest will be more qualitative in this regard. There is little entertainment and entertainment, animators, a contingent of young people and children here is present in small numbers, compared to other islands. On Corfu, you can also find deserted places without noise, but then you will not be able to reach the store and the benefits of civilization for hours. While on the Thassos from anywhere you will eat the whole island in 1.5 hours.
Another advantage of Thassos is the opportunity in almost every village to taste fresh fish, squid and other marine reptiles. In Corfu, although the fresh fish is being declared on the menu, there is actually a great risk of running into a dish from a frozen product the day before. You have little chance of fresh fish if you are not personally acquainted with the cook or the owner of the tavern and you are not aware of the fresh supply of the fish.
Probably this is due, among other things, to the fact that Corfu is a big island by area, compared to Thassos and not all tavern owners maintain contact with fishermen, transportation to the point again takes time. At the Thassos hosts of coastal taverns look out for boats with fishermen and catch through binoculars right there, waiting and planning dishes.
The advantages of Corfu
The advantage of Corfu is its diversity, service and capabilities. Variety of quality of rest, shops, food, beaches and leisure. Corfu has a large water park, there are water slides in large hotels, excursions in transparent submarines. There is a network of famous supermarket Lidl, castles and fortresses, historical places, palaces of emperors. There are many kilometers of wide sandy beaches with the similarity of dunes and barkhans. The contingent in Corfu is also of all kinds and suits - children, families, youth, couples, people of non-traditional orientation. By the way, the European pensioners here in the share is less than on Thassos.
The "greenness" of the island is its own. If on the Thassos this is the Macedonian pine, then on Corfu - these are high cypresses. Of course, there are olives here and there.
In general, if you are torn about what to choose for a holiday - Thasos or Corfu, you will not be disappointed that you would not choose in the end. Thasos is a rhythmical, compact island with a great chance to see traditional Greece (especially if you go deeper into the island, to mountain villages). While Corfu is more civilized, sleek and tourist-oriented, very rich in different impressions of the island.
Tags: Limenas
Useful information about Thassos: