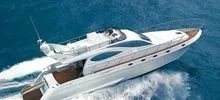 Sometimes you can visit the sights yourself, and another time it's better to take an organized tour with a guide who will tell and show everything. Below are the prices for popular tours of the island of Thassos, so you can decide whether it's profitable to order the services of professionals. The cost is given from the leading tour operator in Greece - Mouzenidis Travel.
Exotic beaches. Visit the most beautiful sandy beaches and inaccessible bays will cost 50 euros from an adult and 25 euros from a child over 6 years old.
Greek evening with dances and songs - 36 euros from an adult and 20 from a child. Lunch and drinks are not included in the price, you pay only for the program.
Jeep Safari - a trip on steep mountain labyrinths to Mount Ipsario, the village of Castro, mountain lake costs 65 euros and 35 - adult and child respectively. A sightseeing tour of the island of Thasos - price tag 50 per adult, half cheaper per child.
A sea cruise by ship group - 35 euros per person
Visit Mount Olympus from Thassos, with arrival to Virginia and Meteora - 160 euro per person over 12 years and 80 euros - for those from 6 to 12 years old.
Pilgrimage tour to the Belt Holy Mother of God at the metochion of Mount Athos - 60 euros
Children under 6 years, almost all excursions are allowed for free. In groups, as a rule, up to 20 tourists.
How much are individual excursions
The prices are for group tours, but any item is possible by individual, more expensive service. So, a visit to the Meteor on a special car rented for you will cost 750 euros for 1-3 people. Survey of the island with a guide - 400 euros for a group of three people, on a dedicated car for you. Swim on the sailboat 5 hours will pour out in the amount of 500 euros (the company can be up to 10 people). Visiting the mud baths near Thassos - 300 euro.
Prices also vary depending on the comfort of transport, which the customer will ride - you can choose a simple car, minivan or almost a bus.
Individual excursions are good the fact that you can slightly correct them at will - any pleasure for your money! The Russian-speaking guide is licensed.
Some such excursions can be ordered at local offices, sometimes it is cheaper. The only negative - if there is a guide, then he will speak in English.
Tags: Excursions, Sights
Useful information about Thassos: