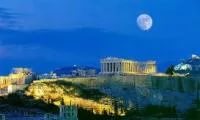 To dilute the measured Taso rest in the capital, you can take a tour offered by the tour operator Muzenidis Travel, or you can independently organize and fly and visit the city of Athens.
If you prefer to think over your leisure yourself, the information presented below It may be useful to you.
How long will it take?
Theoretically, if you plan your trip to Athens from Thassos yourself, you can turn around in one day, but this will be like a "gallop across Europe" , you will get a very rich impression iyami day. Although, why not?
The flight from Kavala airport to Athens takes 1 hour in the air, plus waiting, plus ferry from Thassos to Kavala and back (one and a half hours one way). In general, if you leave the Thasos Hotel at 6 am, you can return by the evening. It is more interesting and pleasant to travel with an overnight stay in the hotel of Athens: then you can wander the entire first day of the Greek capital until late in the evening, and on the next day is comfortable to return back in the afternoon or evening.
What to see on a self-guided tour from Thassos to Athens
The standard set of attractions includes:
Acropolis and the adjacent ruins: the Parthenon, the temple of Athena Nicky, Zeus, the amphitheater of Dionysus, and others
Ancient Agora near the Acropolis and the temple of Hephaestus
Center Athens - Syntagma Square, the parliament building, the Guards regiment (monitoring the change of guard). In the center of the city you can see the churches and temples of the Byzantine period.
The old town of Plaka is a special area with narrow streets, taverns, benches. Recommended as the best preserved image of ancient Athens
Price issue
Flight Kavala - Athens costs an average of 130 euros per person. Direct flights are provided by the airline Olympic Air. The night in Athens will cost from 50 euros per apartment. Ticket reservation for airplane and hotel rooms in the 21st century are made online, because there will not be much bustle. Do not forget about the ticket for the ferry, and also about spending on bus trips in Athens (taxi or car rental).
If you prefer an organized guided tour that will accompany, tell and show, you can buy such leisure from Thassos from his tour operator.
Tags: Excursions, Prices
Useful information about Thassos: