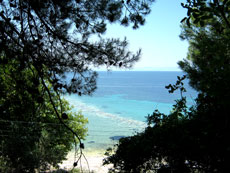 What animals can you meet on the forest roads of the island?
Currently, at Thassos you can see such mammals as foxes, hares, martens and other small animals. The fire in the 80's destroyed a lot of forest, which reduced the population of wolves and jackals. There are very few chances to meet them. Accordingly, goats and sheep freely graze on the slopes, fatting fat and without the risk of being eaten by wild animals.
There are few snakes, compared to other islands and territories of Greece. In the forests, of course, there are, in tourist places and zones there.
Of the birds you can see turtle-doves, partridges, quail. Hunting for them in the summer is permitted on the island, except for the reserve Ipsario and the Rock Marion. Penalties for poaching are incredible, especially in rubles at the euro rate.
trees, then on Thassos pine, chestnuts, plane trees, oaks prevail. From the grass grows rosemary, thyme, valuable saffron, oregano - important for cooking spices. You can buy dried spices Thassos in any supermarket, you should not collect them yourself. There is also an incense and a myrtle.
Thus, you can walk on the Thassos without fear, even in the dark. However, it is not recommended to walk barefoot in the high grass in order to not tempt destiny.
Useful information about Thassos: