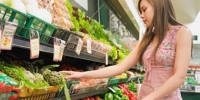 We do not doubt that your first meals in Greece will be in the tavern, but in the following days you will not have the will to go to the supermarket, at least to buy a snack on the beach or on the road. However, some travelers food and products on Thassos buy a complete package and prepare delicious lunches and dinners at the hotel on their own
How much are the products in the supermarkets of Thassos in Greece
Let us consider an important topic -. The cost of products in stores in Greece.
The price of milk and yoghurts
Milk costs from 0.99 euros and above, depends on the fat content and composition. Greek yogurt, which is so fond of Russians in Greece, costs 2.5-5 euros per 1 kg, depending on the fat content. Council - the fatter, the more delicious. Low fat, even 2.5% sour, but 10% - the most it. Yogurt is not a liquid, applied with a spoon and thicker than our shoplifting cream.
Macaroni and groats price in store

familiar to us noodles price starts from 1.5 euros a kilo and it will not be the best vermicelli. On average, the price is 2 euros for better quality. By the way buckwheat in Greece is also an expensive pleasure - about 2.5 euros per kilo. I think you'll be able to without it live on vacation and will return to it, darling return home (in comparison it will cost you 80 cents).
The chicken and meat
Perhaps you may want to try fried chicken, especially if you are in Greece for a long time and have time to miss your diet. The chicken costs 3.5 euros per 1 kg. The lamb and goat cost an average of 8 euros per 1 kg.
Pork - chop or mince 5 euros per 1 kg. Ribs are slightly more expensive. Pork Sausages - 5-6 euros per pack - recommended for frying, delicious
Canned
Not for nothing on the shelves of supermarkets resort located in a prominent place canned -. Rolls of grape leaves, sardines and another fish. Apparently in demand for tourists for snacks - the price is affordable, 1-2 euros for a jar. Once come as a snack or even dinner bachelor
What is the cost of bread and rolls
Bakery products here in abundance -. Species, varieties so that you can eat a couple of weeks and will not happen again. Let's list the usual ones. The cheapest regular loaf is 50 cents, rustic bread 2 euros for 1 kg, rye bread - about 3 euros for 1 kg. Buns, donuts with jam, croissants - from 50 cents per piece.
Egg
For lovers of scrambled eggs for breakfast, it is worth asking for eggs. For a dozen chicken eggs will have to lay out about 1.6 euros.
Prices for freezing
Packing of fish in batter - 5 euros for 300 grams. String beans 1 kg - 5 euros. Shrimp - an average of 7 euros per 1 kg (depending on the size).
Of course, here is a far from complete list of products, but the price of food in Greece now you can.
Tags: Prices
Useful information about Thassos: