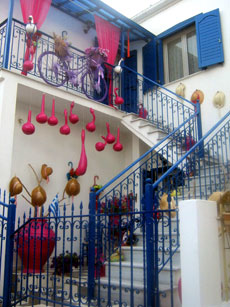 If you find yourself on the Thassos during the peak season, for example, in March-April, you will have something to do. For example, to participate in the carnival, the annual holiday in Net Monday. Net Monday is the first day of Lent, which follows the Forgiven Sunday.
During the carnival, the people get together, sing songs. Particularly interesting is the carnival in Panagia - the famous village of Thassos.
On Pure Monday in the Panagia there is a rite called "chopping peppers". People get up in a dance, and dance happily, holding each other by the shoulders. Such a dance is called Hasaposerviko. The presenter sings a verse, in the words of which one or another of the actions that need to be performed during the dance sound. Those who do not fulfill the conditions of the song, the leader awards a broom broom. If you plan to participate in this dance, you should either know Greek, or look sharp at other participants.
After the end of this event, the day of the festival begins. The mistresses of houses in Panagia exhibit funny things on the thresholds of houses and windows to impress the people, decorate the yard, treat them with wine. On the village passing themed carts, with popular Greek stories and myths. Elena Troyanskaya, Diogenes in a barrel, etc.
People have fun as much as they can. Dressing in fancy dresses, in the skins of beasts and dancing and dancing. To music and "live" instruments.
In general, you will be cheerful if you find yourself on this happy day of carnival in Panagia on Tags: Panagia

Useful information about Thassos:

Than to take a favorite child on Thassos.

What are the local residents of the island? Basic crafts.

How much are popular Greek dishes.