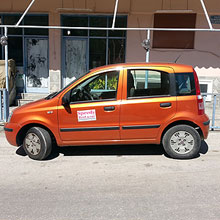 Thasos Island has the shape of a circle that encircles the road. According to the quality of performance this European asphalt road is close to the ideal one. However, it often has rather sharp turns and angles that will not allow the driver to relax. Up to & nbsp; the fact that on some parts of the road, where frequent turns, if the speed limit is not complied with, can cause people inclined to sea sickness. Add extreme and kosliki, which cross the road in any attractive place. Their & nbsp; appearance pre-ringing the bell, which is equipped with any non-wild animal.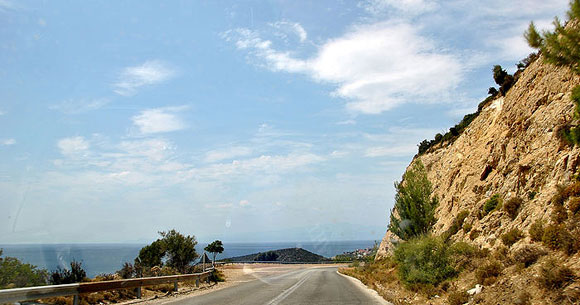 Lawyers here rarely see, only in & nbsp; in case of any accident or incident . It seems that in such a paradise place there are drivers who allowed themselves to try the famous Greek wine a glass of wine or a pile of ouzo shortly before the road, however, the draconian fines and & nbsp; the road, in places close to & nbsp; the break in the sea, keeps them & nbsp; at & nbsp; bridges and & nbsp; caution, not allowing you to risk once again.
Please note that Greece & nbsp; is the country where driving with low-beam headlights is not mandatory in the daytime, it is not penalized for this.
The road stretches mainly along the sea, allowing you to admire the panorama. Often along the road you can see the Greek houses of spirits, in which the candle flickers and & nbsp; there are photographs, images of saints or dead relatives.
& nbsp; Thasos is convenient to navigate on & nbsp; car, the whole island can go around for a couple of hours (if not stop), after all The road along the stretch takes about 100 & nbsp; km. You can also rent a scooter or bicycle.
Tags: Excursions, Rent a car, Potamias, Astris, Sotiras, Maries, Paradise, Kinira
Useful information about Thassos:


Separately standing houses in the hotel complex

What is the weather waiting for tourists in the first month of autumn?