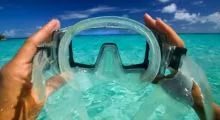 The island has underwater places, especially interesting for swimming with a mask, where you can see unusual fish, squid, crab, coral, octopus. Moreover, there are places for diving for diving, but you need to know where the best conditions for this are.
The following objects for underwater exploration will be most interesting
Potos - Cliffs of San Antonio
Pefkari Rock
Island of the Virgin Mary with the remains of a shipwreck at the beginning of the 20th century
Northeast Rocky Island Coast
Astris Beach Area
Feel free to take your mask with the tube, leaving the hotel in the morning to find beaches and landscapes - you can swim anywhere, even on popular beaches. But then in the sea for the most part will come across an ordinary fish of different sizes and not very different in color and species that you will eat in a tavern in the evening or buy in a fish shop. For a rich water world, you need to explore the above places.
If you do not have a lot of swimming with a mask, you can step on and dip. There are several certified diving schools in Thasos, where you can start training from scratch, and continue with the appropriate level skills. In addition to training, you can rent equipment, order the services of an individual instructor.
Read about diving centers in a separate material.
Tags: Limenaria, Potos, Astris, Pefkari beach, Beaches
Useful information about Thassos: