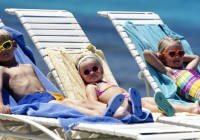 Corfu is positioned as an island for two, a place of refined rest. But do not pay attention to stereotypes, it is better to plan the rest where and how you want, including with children. If you want to go to Kerkyra (the second name is Corfu), then you should go there in any part.
Corfu's water parks do not pass by

The most famous local entertainment is Aquapark . There are three of them on the island. Now think why Corfu is not a children's island? Very popular for children.
The most popular is in the center of the island in Agios Ioannis and is called AquaLand, it does not pass by families with children from three years old. Water amusement park occupies a large space, it is on hearing even outside this island, since it is considered one of the best. If you want to please your child with children's leisure, surrounded by the same old or older children, you will not find a better place in Corfu.
Various rides, pipes, slides, children's carousels, pirate ships - which is necessary for happiness.
Two other water parks are in Acharavi and in Sidari
There is less water park in Acharavi than the first one described above. It is called Hydropolis. It is located on the territory of the hotel and in addition has a mini zoo nearby, which is very convenient and great for combining entertainment. A distinctive feature - in the presence of an unforgettable attraction called the Toilet.
In Sidari, the smallest water park, located in the immediate vicinity of the sea. Has several attractions, sufficient for a variety of leisure activities.
Karting - for teenagers and parents

In addition to water fun, there are karting centers for those who like to drive at high speed. Are located:
Sidari
Moraitika
Near Ermones
Cavos
Horse walks and stables
For horse lovers, it will be interesting to visit the stables in Roda, in the resort of Kassiopi, Dasia.
See underwater life on a yellow boat with transparent walls
on the popular Yellow Boat "Sea Discovery". Unlike the Aquapark, stables and amusement parks, such an experience can not be obtained everywhere, but on Kerkyra - it is possible. You will observe the underwater world, from which only the monolithic glass of the boat will separate. The point of departure is Paleokastritsa.
There is a variant of another boat - with a transparent bottom. It's called Calypso Star.
By the way, here you can take other excursions, for example, with visits to hard-to-reach grottos, which will be interesting for both children and adults.
CorExpo Children's Center - classes on the island
During the siesta, you can relax in a room with a considiary, which provides children with a lot of fun. Master classes, classes, concerts, exhibitions are held here. Here you can take a look at the excursion to the palace of Ahhileon, as the center is on the way.
Visit to the Fortress of Corfu's Old Town and other castles with a history
This place will especially attract school-age children and boys. Guns, shells, loopholes in the fortress - here even people with poor imagination will easily imagine how the battles and sieges of the fortress took place. And people are rich in fiction here is just heaven. The fortress can be explored not only from the outside, but also inside, which is no less exciting. The view opening from the fortress is very impressive. A panorama of the sea with small ships from such a distance, a view of the island and the roofs of the cities for those who want thrills and good photos.
There are other castles and fortresses on Corfu, smaller and less famous, but also curious and with their twists: Angelokastro, Gardiki, Cassiopeia are places to visit in order to see them.
Water sports and entertainment are available and easy

Do not forget about the standard, but easily accessible fun - catamarans, canoes, boats. They can be rented at large resorts, in the same Paleokastritsa, for example.
Sport-leisure in Corfu for not lazy

Fans of bowling (Star Bowl center) and paintball will not be sad on Kerkir, because there are their favorite activities here. If bowling takes place in a room with air conditioning, then paintball in a special suit. It is necessary to really love this kind of leisure, in order to play paintball in the Greek heat. Can I leave it for cool Russia?
There are also organized cycling tours along an interesting route. If your family loves cycling and misses them even on vacation, you will have the opportunity to fulfill your desire.
The engine and the horse-drawn carriage - a fun ride through the historical places of the center
When you walk around center of the city of Corfu and see the sights marked in the guidebook, do not forget to entertain the children on a special locomotive or horse-drawn carriage. They go to the most interesting places.
Children's playgrounds with swings, trampolines, slides are in many places on the island. And in hotels and popular restaurants, you can meet them and let the little guy frolic.
In general, Corfu, quite the same children's Greek island. Here, as nowhere are good conditions and a lot of leisure for both adolescents and for youngsters - just choose.
Tags: In Greece with children
Useful information about Thassos: